Are You On A Journey of Self-Discovery?
Start Creating The Greatest And Happiest Version of You Today!
I'm Carla and welcome to The Journey Back to Self! 🙂
I am a Spiritual Transformational Coach and I help people who are on a spiritual journey of self-discovery creating the amazing and happy life they deserve.
I am also an Intuitive Empath myself, old soul and free spirit.
What is a spiritual journey of self-discovery?
For many people there comes a time in their lives where they go through what is called a "spiritual awakening", or a raise in their awareness and consciousness.
They suddenly realise that the source of unhappiness and other lower vibrational states such as depression, anxiety, frustration, resentment, etc, all comes from living a life which is not aligned with who they truly are at the soul level.
A life where they give their power away to others by doing things, being in relationships, jobs, etc, that do not fully resonate with them.
You as a soul want to move on and want to connect with your inner truth and integrity of self, and with your heart.
When the veil is lifted there's no way back. You start a journey of self-discovery by peeling the layers of what you are not and letting go/releasing old energy and stuck emotions, opening space for new energy and amazing things to come into your life – things that are truly aligned with you.
This journey involves going deeper within yourself like never before, facing every thing that needs to be faced and released. The only way is through.
By connecting with and living from your inner truth you become whole, one with everything and with a feeling of inner peace like you have never felt before.
This is the place where you can start fully using your amazing and unique authentic gifts in the world.
Also, as you raise your vibration and conciousness, your physical life also starts transforming and aligning with your new energy – and this is where truly magical things happen!
It is only when you get to the point of being fully grounded and whole in who you are, that you can fully enjoy life.
You deserve to show yourself fully in the world and the world needs your true self! 
This means letting go of old ways of being and behavioural patterns, and also releasing and shifting old limiting beliefs around self-worth, self-love, your relationship with others, and other key aspects of self.
I have travelled the spiritual path of doing my inner work of transmuting darkness into light and start living from my heart, stepping fully into my personal empowerment and living an amazing and abundant life aligned with my inner truth.
You can read here my own story of spiritual awakening.
I am fully committed and excited to help other people on a similar journey finding out how AWESOME they are and how AMAZING life can be when you're fully aligned with your true self.
You are the co-creator of your life, together with the help from the Universe, and you too can create and manifest the amazing happy life you deserve. That's how powerful you are!
I like to say that changing your vibrational frequency to the one that matches the life of your dreams is like bringing heaven to earth.
---
What Will You Achieve By Working With Me?
You'll connect and own your inner power and will:
Release all that is not your truth and all limiting beliefs
Let go of emotional blockages and fears
Start finding out your inner truth: what you really want and like in life
Feel grounded and whole
Start revealing your true self
Start creating and living the amazing life you deserve
---
Who Do I Work With?
My ideal client is someone who knows there's so much more to life than living a life out of alignment, feeling exhausted and drained all the time.
Their soul craves more and they feel ready to go deep into an amazing journey of self-discovery and alignment with the happy life they deserve.
You feel you have had enough of feeling disempowered and frustrated
You wish to stop taking in the emotions and pain of others all the time
You feel you deserve to manifest a happy life (even if you are not sure how)
You feel you have so much to give into the world by being the most happy and empowered version of you
---
Who Do I Not Work With?
If you're more committed to being a victim and blaming others than taking responsibility for your life, are a logical, skeptical person, or are not ready or willing to commit to change or invest in yourself and what you want.
---
What Makes Me Different?
I have done this deep inner work in myself, I understand and know very well what you are going through.
I won't just give you a general format to follow: I will be with you to help and guide you into connecting with your inner power and own it fully.
Your entire life will transform because you will undergo a huge, amazing, personal transformation in the process!
---
What's My Experience?
I have been helping people from all over the world as a spiritual coach in healing and transform and improve their lives.
I have been there – I have spent many years of my life trying to "fit the mould" and do what I was "supposed to do". And I hit rock bottom.
That's when I've had a full blown spiritual awakening that made me see "beyond the veil" and I started to look inside myself for all the answers of who I truly am, instead of searching outside as always.
My life completely changed as I progressively aligned further and further with my inner truth and integrity of self and I came to a point in my journey that I was ready to follow my life calling and purpose of helping others going through their own journeys of self-discovery and alignment, without compromising my well-being.
Because I have been there myself, I can relate to what my clients are going through and quickly help you shift into a higher vibration.
I hold that space for you until you fully own it yourself too.
---
What drives me?
Anyone that knows me or works with me is aware that I am truly living my life purpose by helping and inspiring other people.
Seeing others flourish and becoming the most amazing version of themselves truly moves me to tears, and I feel deep in my core being that this is what I signed up for in this life.
That is why I give myself 100% to everyone I coach, because I truly respect who they are.
I don't only see their current reality, I see where their soul wants to go and the potential they have, and I help taking them there.
I am with them each step of the way.
---
1:1 Coaching Services
1:1 Session – 30 Minute – $100 –
Skype
If you feel like you are struggling and need to have a chat. It's amazing what you can achieve in half an hour!
---
1:1 Session – 1 Hour – $175 – 
Skype or face-to-face
1:1 Session – aprox 2 hours – $300 – Skype or face-to-face
This is an in-depth intensive session where we'll talk about what is going on with you at the moment and I'll guide and help you in connecting with your inner power.
I'll give you an intuitive energetic reading during the session, telling what is really going on with you at the soul level and I'll give you tools and techniques on how to quickly shift into a much better place and have the necessary strenght to make positive changes in your life.
---
Testimonials:
Carla's program has helped me immensely. I can't live life miserable and overwhelmed and expect the good life handed to me on a silver platter. Life is hard but the more you live life in the light, and with the most positive attitude you can muster up, life will get better. You have to believe your special to see the special in this world….  Carla's program is amazing and I would recommend it to anyone!
 – Connie Hulsart
Thank you so much, Carla. Your words resonance to my soul. Until yesterday I was still questioning my self, am I crazy? Is it real? Then I went to the mall and jumped into the crowd to feel the energy and how my body reacted. I came home safe, with full energy, no draining anymore like it used to.
I have been through hell and came back alive. It needs 38 years to come to this point. What I felt as a threat before, that's actually someone/something's crying for help. My eyes open wide with that realization. I don't need bubble shielding anymore. I'm powerful empath now. This gift is truly a blessing, magical, and overwhelmingly joyful (I'm not English native speaker, don't know words to express it). It's amazing that empath can help others even without they knowing it. My life now is full of synchronicity. I accept my self fully now. I wonder what life will offer me.
– Diana
Carla is great as far as helping! I was letting negative mixed thoughts interfere with my mind trying to focus on positive affirmations and she has helped me resolve this battle in my mind.
– Linda S
Carla, I have known The Law of attraction for years. Dabbled here and there, though I live my life in much of the way of the "law". I have never implimented it fully. I have always said I have lived a blessed life. I guess that was the Law of Attraction working for me without my knowing it. But it seemed like once I decided to dabble in it. I wasn't getting it. You have made the Law of Attraction open to everyone. Your guidance and approach to it show's that it truly is there for the taking for anyone. That's beautiful thought. Thank You
– Robin Goch
Thank you so much for creating your program. You guided me through everything: from the manifestation idea to creating goals and manageable steps to encountering resistance to creating joy in my life. I am so happy to have been a part, and I will reference the program often!
– Kristin Jones
---
I am a member of:
IANLPC: International Association of Neuro Linguistic Programming and Coaching
International Alliance of Holistic Therapists
---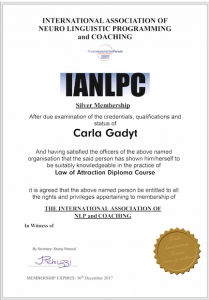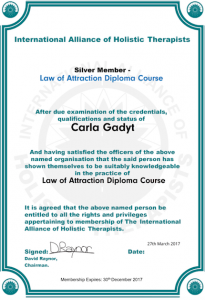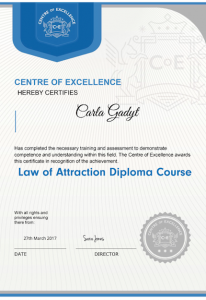 ---